DOWNLOAD FREE.
START RIGHT NOW!
Teens 15 to 17½ – Take this course.
It's the first step for you to get your Driver License. After enrolling, you'll learn everything required to get your instruction permit, then driver license. Study on any device. Start and stop anytime. Once completed, we'll mail you a completion certificate. Good anywhere in California.
Gift Cards available.


DMV APPROVED CURRICULUM
Our Driver Ed Course covers the full 30 hour state-required study time. The course is broken down into easy-to-understand and easy-to-navigate sections.
Driving is Your Responsibility
When behind the wheel, safe driving is your responsibility and it should always be your first priority.
Natural Forces Affecting the Automobile
Understanding these forces will give you better understanding and control of your vehicle.
The Vehicle Systems
Describes the various parts of the automobile and their uses. It also describes the different vehicle safety equipment.
Sharing the Road and Accident Prevention
In this section, students learn about sharing the road and accident causes and accident prevention.
The Human Factors Affecting the Driver
The driver must have the ability to decide and execute actions needed to avoid potential hazards.
Signs, Signals and Highway Markings
It is important for all drivers and pedestrians to understand the meaning of each traffic sign and highway marking.
Rules of the Road and Safe Driving Practices
The student will learn the rules of the road and how to drive with others who share the road.
Alcohol and Drugs and Driving
Students learn the dangers of driving under the influence and the effects on the body. DUI laws are also covered.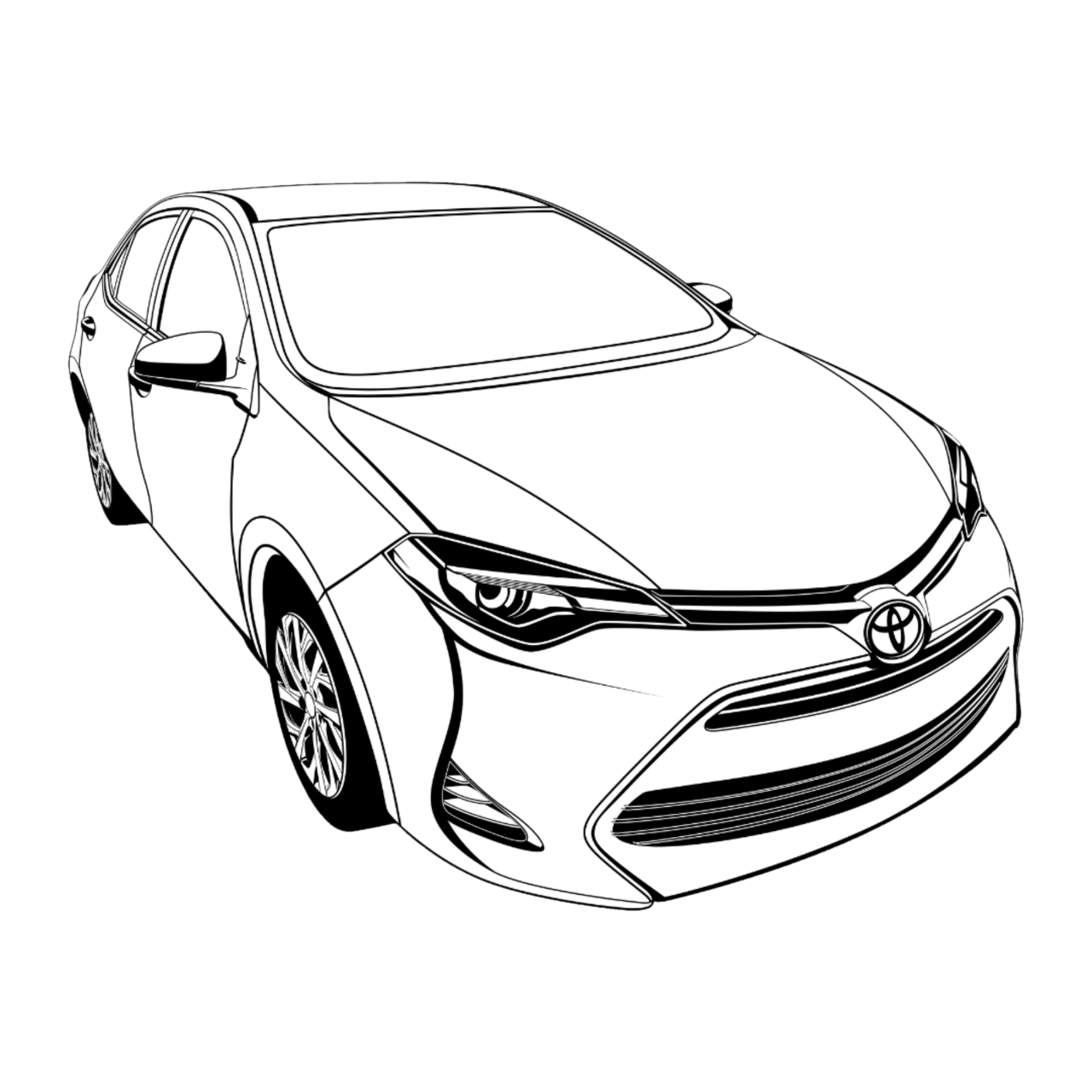 Applied Modern Driver Education.
No more sitting in class! Our California online Driver Ed. course works on all devices: Apps, Mobile Web, Laptops, Tablets and Desktops. Our course is designed so you can stop and start when you like, as often as you like. Automatically return to where you left off.
Non-app, Web-based program available also: Register

Combined Text, Videos and Diagrams.
TAKING DRIVER ED. TO THE NEXT LEVEL

You won't just read about how to be a safe driver, we show you how using multiple driver safety videos, situational diagrams and instructional drawings.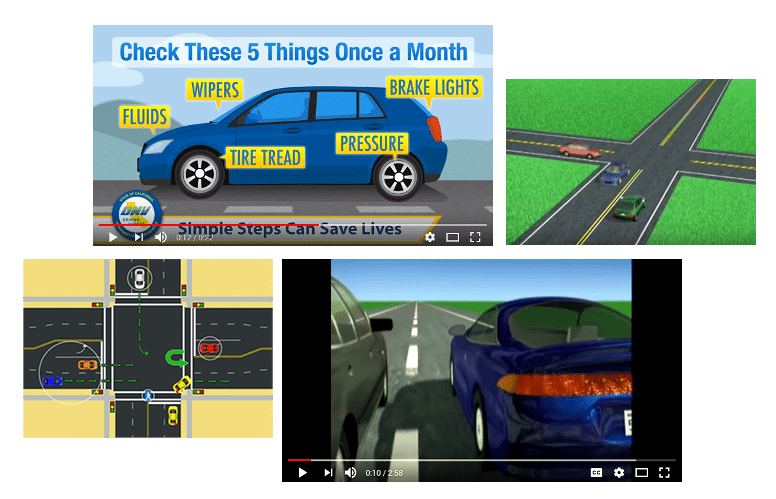 FREQUENTLY ASKED QUESTIONS

The most frequently asked questions by our students. If you can't find what you're looking for here, contact us. We look forward to assisting you.
Do you charge extra for the certificate?
No. We never charge extra for the certificate. Everything is included.
What is the minimum age to start Driver Education?
Teens in California can start Driver Ed at age 15.
Is your customer service available to answer my questions?
Yes. We are open 7 days a week and you can Call, Text or Live Chat with us on our website during normal business hours.
Call
800-786-5630
Text
626-318-6704
FAX
213-336-3034
Does your course meet all DMV and California State standards?
Absolutely. The course curriculum is officially approved by the California Department of Motor Vehicles.
How soon can I start after enrolling?
You can start as soon as you receive your confirmation email. Usually within 10 minutes.
Want to leave us a review?
Do you have Classroom Driver Education?
Yes. We offer the full 30-hour Classroom course, taught by professional driving instructors. We highly recommend this over the current trend of "Online" Driver Education.
What are your office locations and hours ?
We Train 7 Days a Week. Office Hours 10:00am - 5:00pm with 4 office locations to serve you:
Agoura Hills, Claremont and Pasadena
800-786-5630

Our Agoura Hills Office Address is:
5919 Kanan Rd, Agoura Hills, CA 91301 in the Agoura Hills City Mall.
Our Claremont Office Address is:
3628 Lynoak Drive., Suite 103, Claremont, CA 91711

Our Pasadena Office Address is:
40 N. Altadena Dr., 200 L, Pasadena, Ca. 91107 
Our Redlands Office Address is:
301 9th St Ste 204, Redlands, CA 92374

Do you accept Cryptocurrencies?
Yes. We partner with Coinbase and are able to accept many forms of Cryptocurrencies and Wallets.

How do I Enroll and Schedule lessons?
Text or Call us to schedule an appointment. Our friendly staff is here 7 days a week.
626-318-6704 Text
800-786-5630 Call

Where are lessons given?
We provide home pickup in most cases and we can also meet at various DMV locations throughout Southern California.

Bell Gardens DMV
6801 Garfield Ave, Bell Gardens, CA 90201
Fontana DMV
8026 Hemlock Ave, Fontana, CA 92336
Hawthorne DMV
3700 W El Segundo Blvd, Hawthorne, CA 90250
Long Beach DMV
3700 E Willow St, Long Beach, CA 90815
Montebello DMV
424 N Wilcox Ave, Montebello, CA 90640
Rancho Cucamonga DMV
8629 Hellman Ave, Rancho Cucamonga, CA 91730
Redlands DMV
659 W Lugonia Ave, Redlands, CA 92374
Westminster DMV
13700 Hoover St, Westminster, CA 92683
Hemet DMV
1200 S State St, Hemet, CA 92543
Thousand Oaks DMV
1810 E Avenida De Los Arboles, Thousand Oaks, CA 91362
Riverside East DMV
6425 Sycamore Canyon Blvd, Riverside, CA 92507
Riverside DMV
6280 Brockton Ave, Riverside, CA 92506
Santa Monica DMV
2235 Colorado Ave, Santa Monica, CA 90404
Hollywood DMV
803 Cole Ave, Los Angeles, CA 90038
Bellflower DMV
9520 Artesia Blvd, Bellflower, CA 90706
Costa Mesa DMV
650 W 19th St, Costa Mesa, CA 92627
Culver City DMV
11400 Washington Blvd, Los Angeles, CA 90066
El Centro DMV
233 N Imperial Ave, El Centro, CA 92243
Lincoln Park DMV
3529 N Mission Rd, Los Angeles, CA 90031
San Marcos DMV
590 Rancheros Dr, San Marcos, CA 92069
Santa Ana DMV
1330 E 1st St, Santa Ana, CA 92701
Pasadena DMV
49 S Rosemead Blvd, Pasadena, CA 91107
Pomona DMV
1600 S Garey Ave, Pomona, CA 91766
Victorville DMV
14855 Corta Dr, Victorville, CA 92395
Ventura DMV
4260 Market St, Ventura, CA 93003
Simi Valley DMV
3855 D, Alamo St, Simi Valley, CA 93063
Compton DMV
2111 S Santa Fe Ave, Compton, CA 90221
Los Angeles DMV
3615 S Hope St, Los Angeles, CA 90007
San Bernardino DMV
1310 N Waterman Ave, San Bernardino, CA 92404
Laguna Hills DMV
23535 Moulton Pkwy, Laguna Hills, CA 92653
San Clemente DMV
2727 Via Cascadita, San Clemente, CA 92672
Oceanside DMV
4005 Plaza Dr, Oceanside, CA 92056
Newhall DMV
24427 Newhall Ave, Newhall, CA 91321
Inglewood DMV
621 N La Brea Ave, Inglewood, CA 90302
West Covina DMV
800 S Glendora Ave, West Covina, CA 91790
Chula Vista DMV
30 N Glover Ave, Chula Vista, CA 91910
San Pedro DMV
1511 N Gaffey St, San Pedro, CA 90731
Fullerton DMV
909 W Valencia Dr #2106, Fullerton, CA 92832
Glendale DMV
1335 W Glenoaks Blvd, Glendale, CA 91201
Winnetka DMV
20725 Sherman Way, Winnetka, CA 91306
Norco DMV
3201 Horseless Carriage Dr, Norco, CA 92860
El Monte DMV
4000 Arden Dr, El Monte, CA 91731
Van Nuys DMV
14920 Vanowen St, Van Nuys, CA 91405
Whittier DMV
9338 S Painter Avenue, Whittier, CA 90605
Torrance DMV
1785 W 220th St, Torrance, CA 90501
---
---
---
Driving Lesson in Agoura Hills
Driving Lessons near West Covina
Driving Lessons In Pasadena
Driving Lessons near Pomona
Driving Lessons near Brea
Driving Lessons near Alhambra
Driving Lessons near Anaheim
Driving Lessons near Arcadia
Driving Lessons near Azusa
Driving Lessons near Buena Park
Driving Lessons near Charter Oak
Driving Lessons near Chino
Driving Lessons near Chino Hills
Driving Lessons near Citrus
Driving Lessons near Claremont
Driving Lessons near Covina
Driving Lessons near Diamond Bar
Driving Lessons near Duarte
Driving Lessons near Glendora
Driving Lessons near Irwindale
Driving Lessons near La Habra
Driving Lessons near La Verne
Driving Lessons near Montclair
Driving Lessons near Narod
Driving Lessons near Ontario
Driving Lessons near Orange
Driving Lessons near Placentia
Driving Lessons near Rancho Cucamonga
Driving Lessons in Redlands
Driving Lessons near Rosemead
Driving Lessons near Rowland Heights
Driving Lessons near San Dimas
Driving Lessons near San Gabriel
Driving Lessons near San Marino
Driving Lessons near South Pasadena
Driving Lessons near South San Jose Hills
Driving Lessons near Stanton
Driving Lessons near Temple City
Driving Lessons near Upland
Driving Lessons near Valinda
Driving Lessons near Villa Park
Driving Lessons near Vincent
Driving Lessons near Walnut
Driving Lessons near Yorba Linda
Driving Lessons near Fullerton
Driving Lessons near Cerritos
Driving Lessons near Westminster
Driving Lessons near Garden Grove
Driving Lessons near Santa Ana
Driving Lessons near Tustin
Driving Lessons near Midway City
Driving Lessons near Norwalk
Driving Lessons near La Mirada
Driving Lessons near Whittier
Driving Lessons near La Habra
Driving Lessons near El Modena
Driving Lessons near Cypress
Driving Lessons near La Palma
Driving Lessons near Anaheim Hills
Driving Lessons near Artesia
Driving Lessons near La Habra Heights

Satisfaction Guarantee Details
Refunds accepted only within 3 days of taking your first driving lesson.

Guarantee does not apply for Manual Transmission driving lessons. Applies to automatic-transmission driving lessons only.

Effective for both teens and adults.

Applies to the purchase of 3 or more lessons only.
Do you offer Study Guides?
Yes. Both Audio and PDF book. You can find them on our Study Guides Page.
All Courses 6 hours and above include our Exclusive PDF Study Guides and access to our online Video Study Library.
I'm an Online Driver Education student, how do I login?
How do I Enroll in your Online Driver Education Course?
Start for Free! Get our California DMV Approved Driver Education course in the App Stores.



For those that desire a non-app-based version of our Driver Education Course, you can Register Here
What are your contact phone numbers ?
800-786-5630 – Call
626-318-6704 – Text
213-336-3034 – FAX
What is your refund policy ?
All cancellations within 24 hours are subject to a $50 cancellation fee. No refunds for Driving Tests. No refunds for any course after 30 days.
Purchased lesson courses are valid for one (1) year (365 days) from date of purchase.
Refunds given for lessons not taken will incur a $25 processing fee. If a student is not present for the lesson, or if the address given for pickup is incorrect, under any circumstance, this counts as a no-show. No-shows are nonrefundable and subject to a $50 fee for rescheduling.
For Home Pickup Students, if the lesson is cancelled within 24 hours, a new lesson must be purchased before continuing.
No refunds, no exceptions. 
We are not responsible for any items left in the car that may be lost or stolen.
ABOUT 1 DRIVING SCHOOL
SUPERIOR DRIVER TRAINING
1 Driving School is a fully DMV approved and certified California Driving School,
Lic.# E2152.
Come learn to drive with us!
We have lesson locations all over Southern California. 
We accept all major Credit and Debit Cards as well as Cryptocurrencies.